I didn't run yesterday, because I had a 7AM meeting at work. I then didn't feel like running once I got home because it was already pretty hot out. I could've gone downstairs to elliptical, but I didn't feel like doing that either. So this week ended up including 2 rest days, but I think that's okay since I'm still recovering from that injury.
I ran 3 miles this morning. I had thought about doing 4 miles, but decided that 3 would probably be better in the long run. I think the injury re-occurrence came from bringing up my mileage too quickly, so I'm trying to be smarter this time around, even though it's hard. My legs did feel a little tight at the start, so I did slow my pace down after the first mile. I probably should be doing more slow runs anyway.
66 degrees | wind calm | 87% humidity
1.0 | 9:10
2.0 | 9:35 | 18:46
3.0 | 9:27 | 28:13
------------------------------------
3.06 miles | 28:48 | 9:25/mi.
I didn't get a chance on Friday to share some big news. After over a year of having no jobs, I now have 2 jobs! As I mentioned a few weeks ago, I recently took a part-time cashier job at a large consumer electronics store. The day after my first day there, I got a call from a woman at an employment service about a job here in town with a food company (i.e., in my field). I met with her last week to do some paperwork, and then interviewed with the company on Thursday. On Friday, I got the call that I had been selected for the job! It's pretty exciting in that the job is something I've been wanting to do, and I'll get to use my degree. I'm not sure what's going to happen with the cashier job, as they didn't seem too happy about my not being available on weekdays anymore. I told my manager I don't want to quit, that I'd like to stay on for Saturday afternoons, but I understand if they don't have much need for someone with such limited hours. I feel bad about the situation, because I doubt they'd have hired me if they knew I'd be leaving so soon, but I didn't go looking for the other job, it found me.
Things are going to be pretty different starting Tuesday. In order to run (and/or weight lift) before my new job, I'll have to start getting up at either 5 or 6 AM. It's a good thing I started getting up at 7 this past week, so it won't be such a huge shock to the system. I want to try to get the running done first partly because I prefer not to have a run looming over my head all day, but mainly because I know I'm not going to want to go run at 5PM when it's blazing hot and I'm tired from work.
And on a more personal note, it's our 1st Wedding Anniversary! Hard to believe it was just a year ago: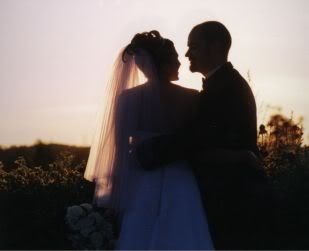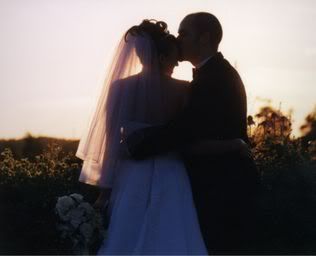 Also, Happy 34th Anniversary to my parents!