« Trying again | Main | Training week: June 5 - 11, 2006 »
Dirty Girl
Got a little dirty this morning: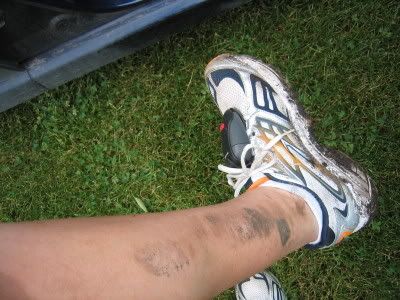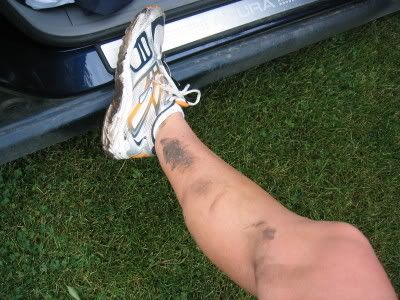 Not as bad as I thought it would be since we got 2-3" of rain last night, and there was a lot of mud on the trails today. I was sliding around at several points.
Funny/strange thing: I'm from St. Louis, most people I meet around here are either from here, or from either the bordering states or Michigan. (A very high number of Michigan State alumns seem to live here). After the race, while waiting for the awards, I notice a kid wearing a red sweatshirt. It says "West Plains" on it, and that catches my attention. Once I read further and see "Zizzers," I get really curious as to what a kid in MN is doing with a MO high school sweatshirt. (West Plains is a team that dominates at cross country in MO. I don't know what the hell a Zizzer is, but that's their mascot, and they used to always wear red and white striped shorts). Maybe West Plains has a camp, I think, and that's where he got the sweatshirt. I decided that instead of sitting and wondering I should go ask. Turns out the kid is actually from West Plains, and he's up visiting his mom. I mentioned I went to LHS, and he remembers running against them at Hancock. We talked a little about how tough JB is, and it sounds like they might still be running the same course we ran my senior year. (Which sucked, in my opinion. The course my sophomore and junior years was awesome - it was tough, but you could still run fast there. The new course my senior year was tough but IIRC I ran like crap on it, especially at Hancock that year which had previously been a kick ass meet for me).
I just thought that it was really funny to run into a kid from MO! Almost as funny/random as the time I went to see Dave Matthews Band at Soldiers Field and had awesome seats on the field. My buddy Drew and I started chatting with the girl and guy next to us, and while I though the girl looked familiar, I didn't think much of it until she said something about being from StL. I then blurted out "Did you go to LHS?" It turns out she graduated 2 years ahead of me. That was pretty random!
I saw my first running skirt in person today. It looked pretty cute and comfortable. If I weren't trying to conserve money, I might look into getting one/some for myself.
Anyway, I don't actually have much to say about the race. There were about 20-25 minutes in the middle where I was completely alone and didn't see any other runners. I got pretty bored of running around the woods sometime around that point. I also started to worry that I'd somehow taken a wrong turn. I ran much smarter this year, compared to last year. I didn't hammer as much in the beginning, and as a result I walked a lot less on the hills. I probably could've run harder on the downhills, but they were making my right knee a little achey, and I was also kind of worried about my footing because of the mud. Pounding in the woods reminded me of why I used to wear through shoes so fast back in high school, however. Running in the woods was a lot tougher on my feet than the roads seem to be.
As seen in the pictures above, I did wear my Polar today. I thought I was going to be so smart - the Forerunner wouldn't work in the woods so I'd use the foot pod to know distance, and maybe I'd be able to see my MHR on the hills. Last night, I found all the pieces but forgot one key thing. See, I haven't used the foot pod in at least a year, and I have no idea when I last changed the battery. Everything was great while I warmed up, but as I started heading towards the finish line I noticed that the foot pod was blinking red instead of green. Crap! It died before the race started, so I was able to turn off the speed option (I don't know what happens if the pod dies while the timer is running). I was a little annoyed to have a non-functioning pod on my shoe, but I didn't notice it while running so it wasn't so bad. My heart rate actually wasn't that high ... I averaged 177, which is about an 86% PE for me. (As comparison, during last year's 20K I averaged 189/93% which is more what I would expect if I were running full out for 10 mi). I maxed out at 192; I probably could've gotten it higher if I'd run up all the hills but I was trying to balance running hard with not killing my legs. I didn't see the point in killing myself out there, especially since I was running alone for so much of it and running harder wasn't going to improve my placing. Plus, you know, I've got official marathon training starting 6/19 and I'd like to reach that date in good condition.
One last thing - I do not get Minnesota weather. Just for the record:
4 weeks ago, the rain and wind made it feel like the low 30s and I almost got hypothermia
2 weeks ago, it was in the mid to upper 90s and they shut down the marathon
Today, it was back in the uppers 40s/low 50s. Sitting around after the race, I started to get really, really cold, even though I'd put on pants and both a short sleeve and long sleeve shirt.
MAKE UP YOUR DAMN MIND, MINNESOTA!
Gut Buster 10 mile trail race | 1:36:55 | 9:41/mi | AHR 177