I only put the hat on her for pictures purposes, and took it off right away. The hat is actually a "souvenir" from the Engineer and I's first "date."
Molly was born in Illinois on June 26, 2005. Look at itty bitty she was! (And how much she looks like a guinea pig!)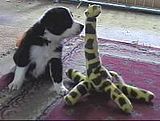 By week 4, she was much cuter.
We met Molly (and her siblings) when she was 5.5 weeks old. She immediately took to the Engineer, and kept coming over to hang out with him. We left not knowing for sure which girl we'd get to bring home, but within a week of our visit it was confirmed that Molly would be ours. (It took the Engineer and I quite awhile to come up with a good name for her. We decided to give her a "M" name since ours both start with Ms and we're not going to continue that with our kids. We also wanted to give her a U of I-related name, so she got named Molly after a bar in Champaign).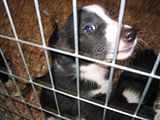 She still remembered the Engineer when he went to get her at 8 weeks old.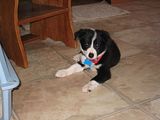 Molly at 8 weeks old.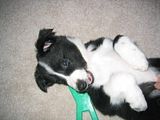 9 weeks old.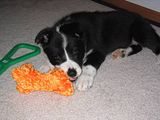 10 weeks old.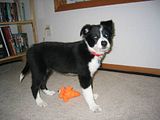 10 weeks old.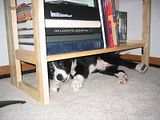 She loved hiding under the bookcase.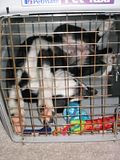 Sleeping weird in the kennel at 11 weeks old.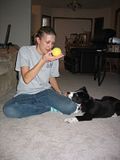 Playing ball at 11 weeks.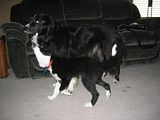 Harassing Zac at 12 weeks ... he didn't really like the overactive puppy!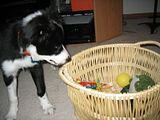 Investigating toys at 14 weeks.
Outside, watching the Engineer build the fence, at 15 weeks.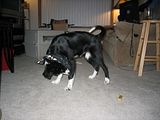 On Halloween, I made her wear a bandana and she hated it.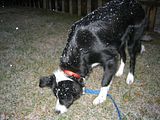 Molly's first snow (5 months old).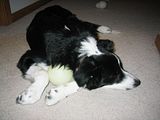 Molly got spayed in December, and the meds made her so loopy she fell asleep playing.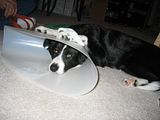 On my 27th birthday, Molly's stitches came out and she almost died. She wasn't happy to wear the e-collar.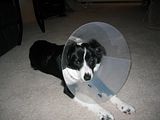 Molly gives terrible presents.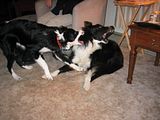 Contrary to what this picture might make you think, Molly and Zac became buddies at Christmas.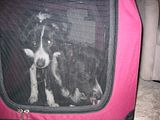 They even hung out in Molly's travel kennel.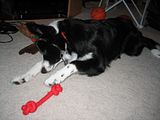 Molly as a reindeer.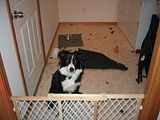 In January, we started leaving Molly loose in the laundry room during the day instead of locking her in her kennel. We learned not to leave rugs in the room.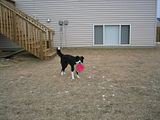 Molly got her first frisbee when she was 7 months old.
In February, the temperature dropped into the negative 20s and Molly got a pair of boots.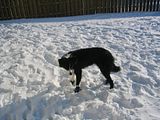 She hated the boots, but she was able to walk with all 4 paws on the ground.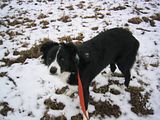 We started taking longer walks around the neighborhood in March.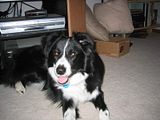 Molly in April (almost 10 months old).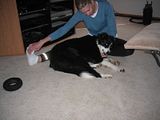 "Helping" me stretch.
"Supervising" the Engineer putting together an end table.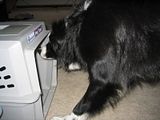 "I used to fit in there?"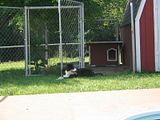 Hanging out by the pool over Memorial Day (11 months).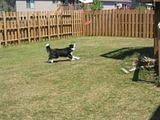 Frisbee at lunchtime.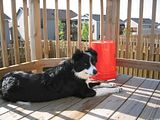 On the deck after running.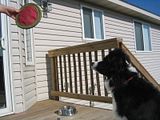 Waiting patiently for the Engineer to throw the frisbee.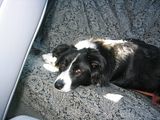 Going to the lake for a walk.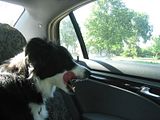 In the car after walking at the lake.
Sorry for the long post but I love my puppy!