First day of marathon training! So how did I mark this exciting day? I ... wait ... walked Molly! Woo! Like a lot of other people, my first day of training didn't have a run scheduled. My schedule gave me the option of resting or cross-training. I chose XT; the elliptical probably would've been the better choice for cardio, but walking Molly is usually more fun. Plus, it gave me a chance to take some more pictures! (This time I'm using thumbnails so hopefully this won't be as slow as last time).
Let's see what "extended entry" does.
I took Molly down to the Creek/woods part of the bike path. The woods make up part of mile 16 and 17 of the marathon; I don't tend to do a lot of my running in the woods part because it creeps me out to run there alone. The section along the river is really nice.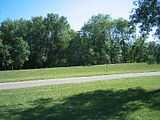 From the parking lot, looking towards the woods.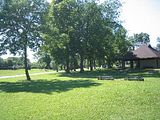 The picnic shelter north of the woods.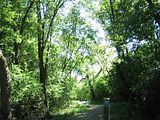 Woods + half-mile marker. The pavilion near downtown is considered the start of the bike paths, and all other half-mile marks are measured in relation to the pavilion.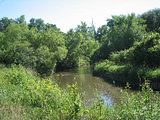 There was a golden retriever swimming in the creek today.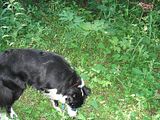 Molly was fascinated by the plants. We don't go into wooded areas that often.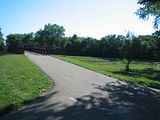 Back outside of the woods, heading north. This shot is looking east; the bridge takes you over to the south high school.

Continuing north. I really like this section - it's nice and flat.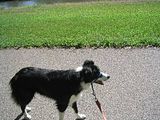 Something else catches Molly's eye.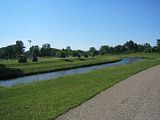 More north, you can see downtown in the distance.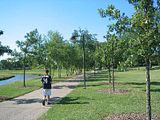 Still heading north. The lights sometimes come on at dusk.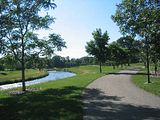 The river looks really nice today, but it's actually gross up close.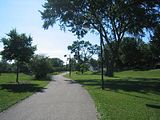 If you were to continue following the bike path north, it would run into the pavilion.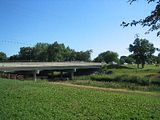 The Beltline is a really busy road - if the bike path didn't cross underneath, I don't think you'd ever get across.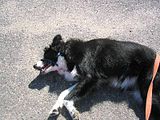 Once we got back to the car, Molly decided laying down and getting dirty would be a good idea.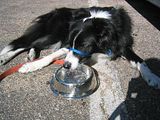 Then she decided to plunk down in front of the water bowl.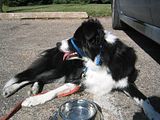 Looking around. (She's wearing her gentle leader today, in an effort to make her stop pulling so hard).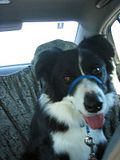 Blurry picture of a happy puppy.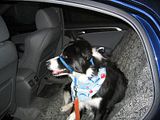 What better way to celebrate a walk/first day of marathon training than going and getting your nails done? Not mine, sadly. Molly and I stopped in at Petsmart and they clipped her nails, told her she was pretty, and gave her a bandana.
Walking with Molly | 2.44 miles | 36:42