« Happy Anniversary! | Main | Super long run »
Race day loot!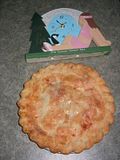 I ran the Women's 4 mile race today, for the 3rd year in a row. I had finished 6th the previous 2 years, but as we headed to the start line a quick look around showed that several of the speedy girls around my age had showed up. So I knew I'd have to work really hard to not only maintain that finish place but keep my AG hardware collecting streak alive.
The gun went off and I tried to get out at a good pace, but not too fast. I wanted to hang semi-close to the speedy girls, but not too close since they are a lot faster than I am. By the first half mile, I was hanging out in 6th, although I had 2 women right on my tail. One of them did pass me, and would stay just enough ahead that I couldn't catch her. The other woman was the track club president (TCP) who has passed and beaten me in every race except for the mile. I really wanted to keep ahead of her.
We hit the first mile in 6:41, which was a little faster than I'd intended. While I felt a little drop off in pace, I didn't think I dropped off that much but hit the second mile at 13:43 (7:02 split). I had been passed by a girl wearing a funny xc shirt (something like "If given the choice between dying and running cross country, I'd choose dying because it'd be less painful") but was still holding off TCP. Upon seeing my mile split, I did utter an "oh shit" and started working on moving faster.
I believe mile 3 was short, because I hit it at 20:10 (6:27 split). I knew I'd picked up the pace, but I doubt I picked it up THAT much. I was pretty pleased by the 3 mile time, as I knew if I didn't totally fall apart a PR was in the bag. I tried to pick up my pace, even though my legs were feeling pretty tired by now. As I headed around turns, I took advantage of the curve to peek back to see where TCP was. I didn't want to have her blow by me in the last mile!
The course is 2 loops around the lake, so I did end up lapping 1 or 2 people. That's not something I'm used to doing. As the finish chute came into view, I really picked it up because I thought TCP might be about to pass me, and getting sniped at the line sucks! Finish time of 27:37 (mile 4 split of 7:26), a PR by 59 seconds!
Garmin claims my splits are for 1.02, 1.01, 0.94, and 1.08 miles. So I think miles 1 and 2 were fine, but obviously 3 and 4 had some issues. I knew something had to be off when mile 4 took so long - there is absolutely no way that I slowed by that much, especially when I picked up at the end!
The awards for this race are always cute. In '04 they were little wooden boxes with newspaper clips about the race screen printed on (it was the 25th anniversary). Last year, they again went with wooden boxes, but this time they were in the shape of a flower, and contained a handmade bracelet. This year, the RD made clocks. I've never won a clock before, so I hoped some of the speedy girls weren't in my AG.
As it turns out, I finished 3rd in my AG (8th OA), so I was able to keep up the hardware streak. I think it's going to end next year, however, as the girl that won the race moves into my AG. Anyway, so what's with the pie you might wonder. This race also gives out door prizes, usually cutesy stuff for your house. Last year, they started having homemade pies for prizes, too. (Freshly made the morning of the race). This year, they had both apple and cherry and I hoped I could win the apple. But the first person drawn for pie got to pick, and she picked the apple. I still wanted to win, so was excited when my name was called. Yay, pie for me! I ate some after taking pictures of my prizes, and it was good.
The other cool thing that happened today makes me sound like a nerd, but oh well. After the race, one of the speedy girls came over to talk to me. We chatted for a bit, she said she runs with the other girls, invited me to run with them sometime and that some of them are also running Chicago. I went back to my car to change shoes, and the rest of the speedy girls then came over to chat. They were all so nice and friendly, and one of the Chicago girls now has my e-mail address so maybe we'll be able to work out running together sometime. I'm so used to thinking of myself as slow that it's really cool to get invited to run along with a group that has all qualified for Boston already.
Lastly, thanks for all the nice comments lately. I'm a little behind in my e-mail (even worse so than usual) and blog reading/commenting. I hope to get caught up by the end of the weekend.
TrackBack
TrackBack URL for this entry:
http://www.breakingthetape.com/cgi/mt/mt-tb.cgi/2021