I think Minnesota has broken me.
On Friday, I planned to run out by the lake. I packed a bag at lunch so that I could change at work and go straight there. On my way out of work, I realized I'd left my jacket at the house. A big storm was predicted, so I decided to go to Target on the way home and get groceries. As I was leaving Target, I got hit by a big gust of wind (30+ MPH) and by the time I got to my car it was hailing. I was pretty pleased at that point to not be out running! However, I really didn't want to run on the treadmill ... so I didn't.
Saturday, I wanted to do my long run. It had snowed some the night before, and it started raining ice during the day. So: treadmill. I stopped briefly at 9 miles to switch water, use the bathroom, and adjust the volume on the TV. But then I couldn't really get going again - I just felt really crappy, and the weirdest thing was that my right and left legs felt like they were different lengths. I don't know how else to explain it. At 12 miles, I decided to call it quits. I just couldn't stand the idea of running any farther, and since I was feeling off it seemed like a good idea to stop.
Sunday, I was going to run on the treadmill again. But my back hurt from shoveling and ice chipping the day before, and we had to go shovel again. We ended up with about 13" total.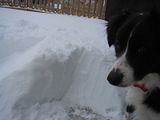 Molly was not impressed by my attempts to clear the deck. The sad thing is that I had fully cleared the snow from the deck the day before.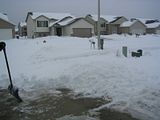 Clearing the driveway, round 1.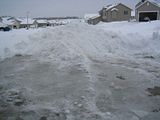 Big snow pile.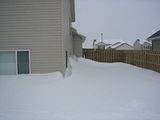 Nice snow drifts in the backyard.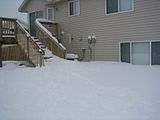 The bottom stairs are buried.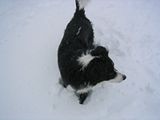 Molly sinks into the snow. There's actually more snow than appears, since a layer of snow got trapped under a layer of ice.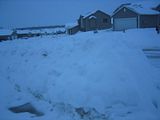 The wall of snow, after clearing the snow after the plow had finally come by.
At least Molly had a good time:
(here's the link to the youtube video for those with flash blocked)
Anyway, I haven't run since Saturday. I can't run outside, because the sidewalks are non-existent and the streets are a big mess. And while I'm glad I have the treadmill, I just can't stand the idea of being on it right now. I think I'm just a little burned out on running at the moment. Trying to do a 12 week, high mileage program was probably a bad idea.
On that note: I'm not running Boston. I'd been leaning towards this, but after Saturday's run my mind was made up. I'm sure I could still finish out a training program, but I don't want to run Boston badly enough to just run it. I'd want to run a decent time, which isn't in the cards right now. I also don't want to go to Boston (MA) badly enough to just run the marathon for the experience. MA just isn't that big of a draw, and it's pretty expensive! The Engineer calculated that we could go to Hawaii for about the same price as going to Boston ... and that would be a lot more fun for both of us. We're still floating that idea around.
Back to my non-exercising. I'm feeling really sluggish, and I think these few days off are probably what I need. I've been feeling kind of run-down, and this morning I was kind of dizzy. (And no, I'm not pregnant). I probably need to get more sleep.