I had to return a book to the library today to avoid paying a late fee, so I decided to pack my stuff to change at work and then run from the lake after going to the library. I checked weather channel before I left, and saw a weird icon.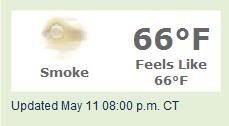 (I just print-screened that; it was more like 70-something when I ran + the picture was of the sun).
I went to the local newspaper site and learned that we're getting a lot of smoke from the fires going on in the boundary waters. Just for reference: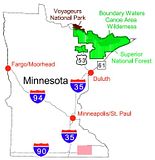 The fires are in the Boundary Waters Canoe Area; I live roughly 7-8 hours away in the area marked by the pink square.
Running wasn't horrible ... but it wasn't exactly pleasant, either. And because I'm a glutton for punishment, I even did 6 x 100m strides. Having not done strides in awhile, the first one was a little rough. But by the end of the set, they had gotten easier.
It's now gotten too hot here for me to run with Molly after work. I took her with me on Wednesday, when it was 78 and she just got too tired/warm. She tried to sit down at one point, so we came back to the house early and I finished my run on the treadmill. Running with her lately has been almost pleasant, so this is sad.
While looking at the local newspaper site, I saw that they had an article about running featuring 2 new moms and one mom-to-be. One of the new moms is one of runners Chad is following for the MDRA newsletter. The mom-to-be is one of the speedy girls from last summer and that ran 3:26 in Chicago. She's due at the end of July, meaning she got pregnant pretty much right after Chicago. It made me a little sad because at one time I'd hoped to have that happen ... and the whole "why me?" thing - she probably ran as much (if not more) than me, and she was smaller than I was ... blah blah!
I know I made a fuss last summer when I started blogging about this stuff that I wasn't going to talk about it on my blog, that this would stay a running blog. Obviously as things dragged on and on, and it started taking up more of my thoughts I did start blogging some. I've decided to not worry about boring people with it, because maybe someone will find it helpful or something to see that not every woman just *bam!* gets pregnant. I know when I see blogs or people IRL that make surprise announcements I tend to assume it was either an accident/oops/unplanned, or that it was easy for them. I had a train of thought here, but it seems to have run off so I'm going to move on.
We had the follow-up with the RE on Tuesday. The good news is that I don't have PCOS, I didn't have any structural abnormalities seen on ultrasound, and my hormone levels were all normal. (The hormone levels shot down my theory on why my running sucks). So what the RE thinks is that it's hypothalamic amenorrhea, except in my case it's oligomenorrhea. She outlined what our options are, and we decided to go with the simplest which is 5 days of Clomid. I want to see how that works out before adding more procedures and tests ... I want things to be simple. I'm thinking optimistically!