When I last ran, I looked like this: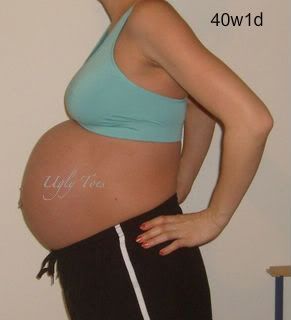 Possibly a little bit bigger, since that's my 40 week picture. We should've taken a picture when we checked into the hospital, but I didn't think about it at the time. Two weeks later, I look like this: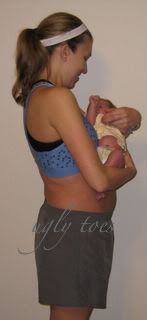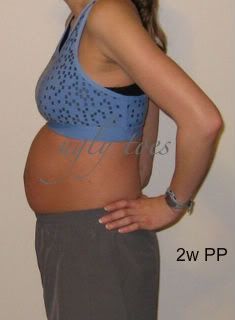 I think my belly is a little less round than the picture shows, but I'm not complaining about the state of things. I've already dropped 21 of the 27 pounds I gained, so things are going in the right direction. Of course, I still need to drop 17 from where I am to reach my running weight, but I'm sure as I get back into exercise that will happen.
So I decided to try running today. I had kind of a rough first week, recovery-wise, but after spending most of last weekend in bed resting I started to feel better. I wanted to go outside, since yesterday it was in the 40s and sunny but it was cold and windy this morning so I decided to just treadmill. I have no idea what speed I should be setting the treadmill at right now - I used 0.1 MPH faster than I last used but I think maybe I could've gone faster? That's the other reason I wanted to go outside, to figure out what my current pace is.
Running was weird! On the one hand, I really enjoyed not needing to pee and not having to use Body Glide to prevent my legs rubbing. (Sadly enough, to me at least, I used more Body Glide while pregnant than while training for my 5 marathons combined). But I just felt kind of off-balance and my chest and abs felt weird. So I stopped at 1 mile and walked for a half mile, just because I don't need to push myself too hard right now. I think tomorrow if the weather cooperates, I'll just take Little Miss out for a walk in the stroller and then maybe try treadmilling again on Tuesday. I think both the 15K on May 3 and the 1/2 marathon on May 25 are most likely out of the question. There are some 5Ks in May that would be possible, but I have to be careful not to hurt myself right now - I read yesterday that in some ways, you're more at risk for injury running post-partum than pregnant.
Little Miss's doing really well. She is a pretty easy going baby, not a lot fazes her (I'd worried about doorbells, Molly barking but she doesn't care). She's figured out breastfeeding - she was 7lb 6oz at birth, 7lb 9oz at 1 week and 8lb 3oz at 2 weeks. Babies usually lose some weight after birth so the pediatrician likes to see them regain to their birth weight by 2 weeks - and Little Miss's surpassed that.