« How to Hug a Baby | Main | Transitions »
Little Miss's New Ride
On Tuesday, I got a call from REI that my BOB was in, 2 days early. I also got an e-mail notification, but it was only for the stroller and not the handlebar console I'd also ordered. I decided to take a chance and drive the hour to pick it up yesterday. I lucked out and they were unloading the console when I arrived. The BOB box was pretty huge: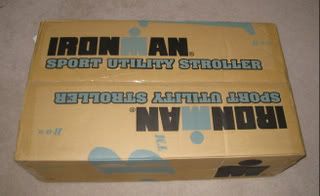 REI had offered to assemble it, but I opted to do it myself. I only had two spots where I had trouble with the instructions, but I figured it out in the end. I decided to take Katie out for a test walk last night, and thought I'd be nice and take Molly, too. Unfortunately for Molly, she got left behind - the BOB is much lighter than our normal stroller, and Molly yanking on the leash threw me enough off balance that I almost tipped the stroller over. Katie tolerated the short walk, so I decided we were a "GO" for a run today.
She looked a little confused when I strapped her in this morning.

I expected that pushing a 21 pound stroller with an almost 12 pound baby would slow me down a lot, but I was able to run about the same pace as I've been running. Not to be too big of a nerd, but I felt kind of "tough" running around with a stroller, especially when I had to run up hill. I stopped to peek in at Katie a couple of times; it seems she stayed awake for the first mile and then decided to snooze. I had thought beforehand that I'd be lucky to get in 3 miles, since I didn't know how well Katie would tolerate running and how I would deal with pushing the stroller. We ended up running 4 since she was doing okay and I was having fun. Next time, I'll bring a water bottle and it'll be even better.
9:03
9:08 | 18:11
9:16 | 27:28
9:28 | 36:56
------------------------
4.04 miles | 37:15 | 9:13/mi.
walk CD | 0.21 miles | 3:22
I'm not sure how well she liked running with me, but she didn't hate it at least.

We had her 2 month appointment today and I had her get two vaccinations. (She was supposed to get 5, but we're going to space them out). The first one wasn't so bad because it was a liquid. But the second one was a shot and she didn't like that one bit! She got bright red and cried, it was sad. But after nursing, she decided she was okay and conked out. The pediatrician said Katie's doing great. She's 11lb 9oz now, which is 70th percentile - she was only 48th percentile at birth. She might be a shorty like me, though, since she's only 22.4" (54th percentile).
TrackBack
TrackBack URL for this entry:
http://www.breakingthetape.com/cgi/mt/mt-tb.cgi/3761